Year R 2017-2018
Welcome to Reception.
We have had an exciting and busy start to our year and the children have settle into school life very well.
This term we will be exploring nursery rhymes such as 'Incy Wincy Spider', 'Hickory Dickory Dock' and other family favourites. The children have had lots of fun exploring their new classrooms and the outside area.
Lunches have been very successful and the new menus have now been sent home.
Thanks for the great response to the reading afternoon! It was a lot of fun and we look forward to doing more of these with you.
Please remember to take earrings out on PE days (Thursdays and Fridays).
Thank you for your continued support.
Term 2
Our topic for Term 2 is 'People who help us'.
We will also be looking at different celebrations that are enjoyed at this time of the year.
We will be looking at different celebrations and learning the stories and history behind these such as Diwali, Guy Fawks and Christmas.
We have already started learning about Diwali and as you can see the children have enjoyed making Rangoli patterns and Diwa lamps.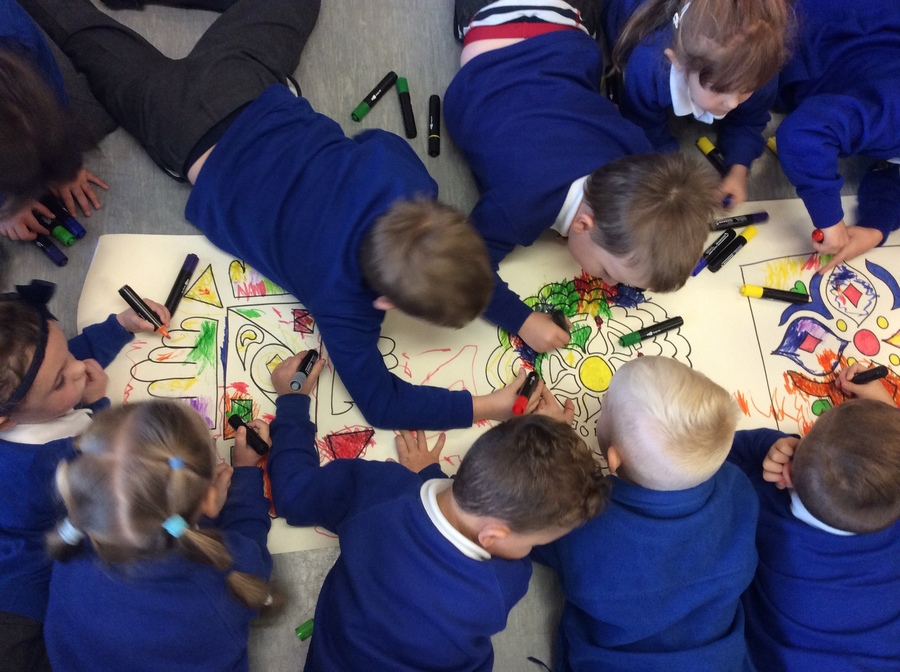 The children have been experiencing practical maths using the basketball hoop and tallying their scores.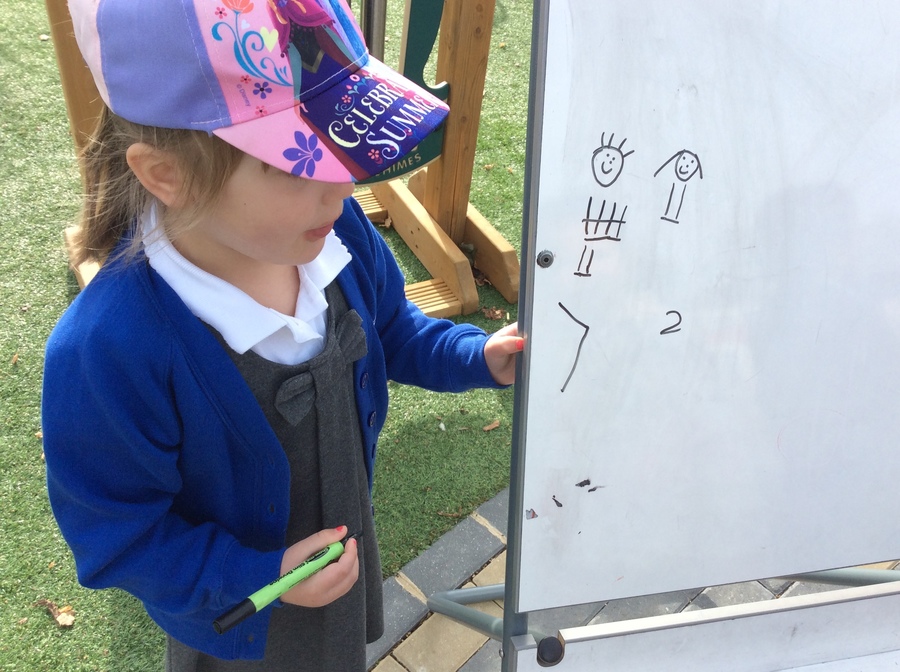 We are excited to welcome some guests this term that include Maidstone firefighters, policeman, nurse and a life guard. They are coming in to share how they help people and what their job entails. The children have already enjoyed acting out some of these jobs!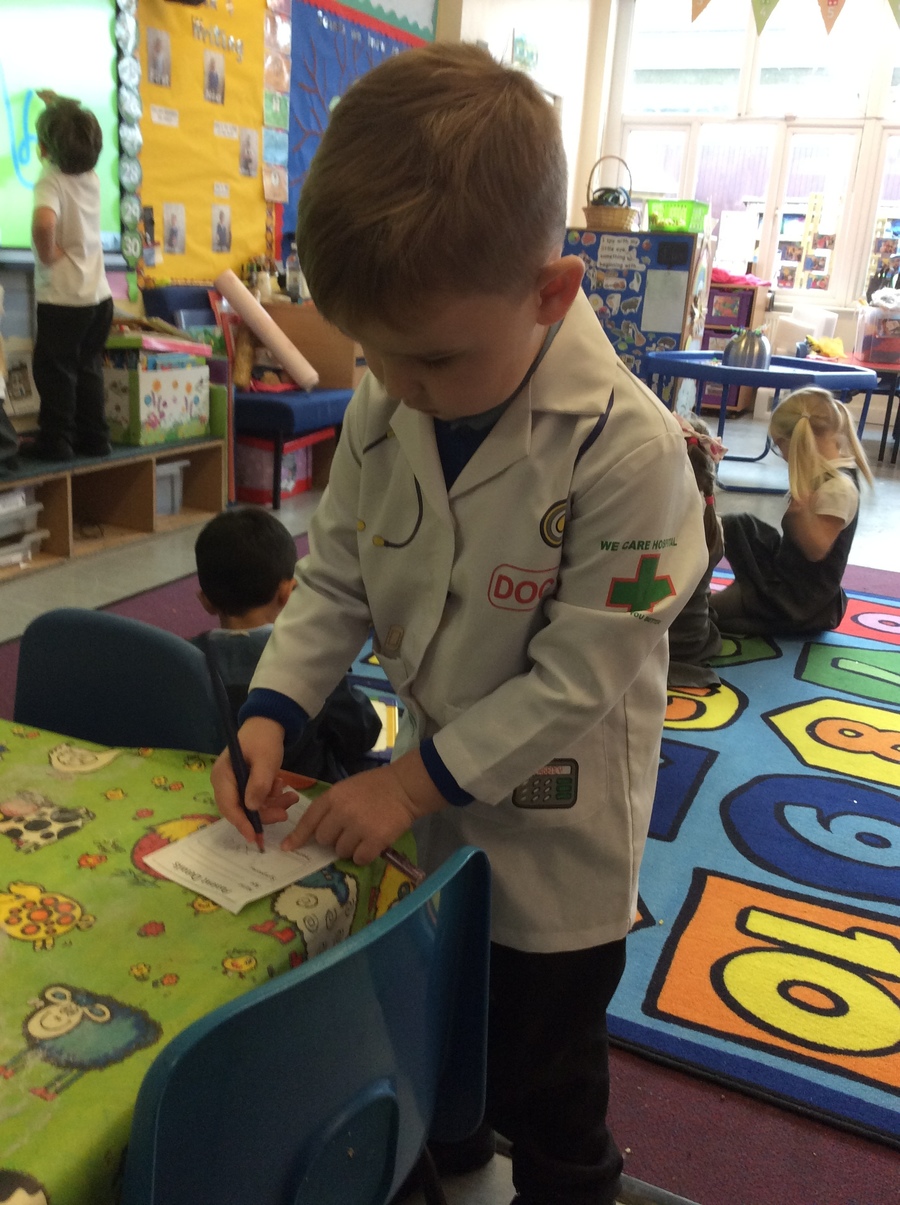 Term 3
This term we are learning all about different traditional tales. We have already experienced stories such as The Three Little Pigs and Jack and the Beanstalk. We are looking forward to hearing about The Gingerbread Man and Goldilocks and the Three Bears. We will also be looking at the story behind Chinese New Year.
This term we have opened up the Forest School to the children. They have loved exploring this and have recently been looking for fairies!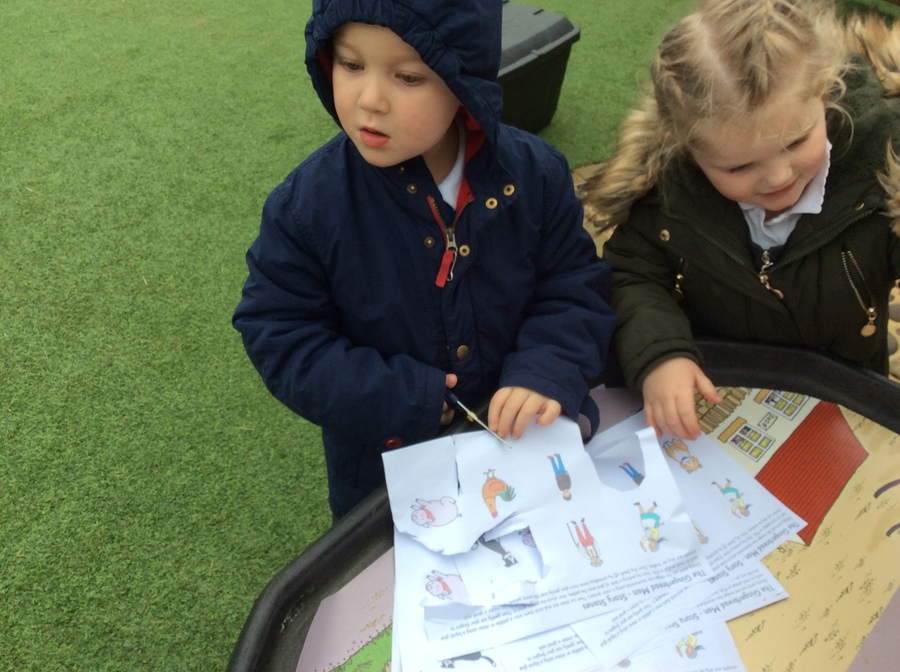 The children enjoyed creating Gingerbread Man characters to use in their roleplay.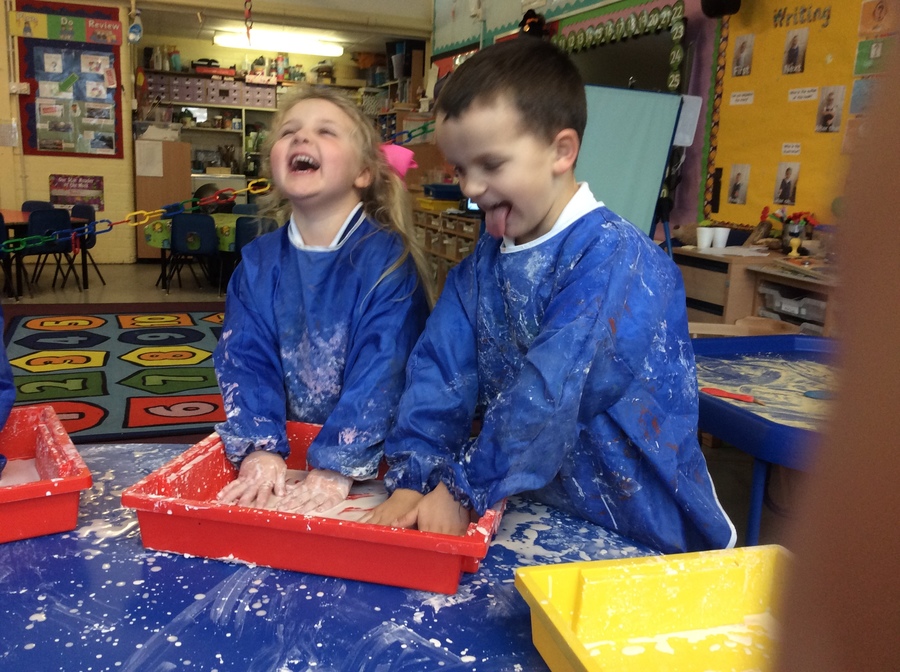 The children have loved our new 'Discover and Do' time and have been exploring lots of different areas and activities. Here you can see some of the children using cornflour to experiment with different consistencies.
Term 4
Welcome to Term 4!
Can you believe it? We are already half way through the first year in school.
The children are excited to begin our new topic of Pirates and Mermaids. We have already begun discussions and planning for our 'Pirate Day' where we can dress as Pirates or Mermaids for the day and also take part in a pirate workshop, details will follow shortly.
We have planned our Talk for Writing books for this term, if you want to read these in advance then we have provided a list for you below.
Week 1- Pirate Adventure- Oxford Reading Tree
Week 2- Pirates Love Underpants
Week 3-
Week 4- Rainbow Fish
Week 5- Shark in the Park
Week 6- The Singing Mermaid
ICT - Safer internet day - We will be accessing basic computer programmes on the laptops as well as using smaller devices such as cameras and bee bots. As a class we will be looking at internet safety and how we can keep ourselves safe online. We will be singing a song to help remind us of how to keep us safe. Please click on the link below to have a look at the story of Smartie the Penguin which is an age appropriate e-safety tool to help keep children safe.
http://www.kidsmart.org.uk/teachers/ks1/sources/projet/The-Adventures-of-Smartie-the-Penguin.pdf
Creative week was fantastic, both children and adults had a fantastic time. We are extremely lucky to have the very talented music teacher Mrs Higgins and a super talented parent come in and play the piano for us. We may have quite a few budding pianists in the future as they were truly inspired by him and our fantastic Mrs Higgins. Here are just a few pictures of their amazing creations and skills.
The children also had lots of fun creating carnival outfits and masks. You can see below some of their lovely creations and designs! We made our own dances and topped the week off by performing our dragon dance to the grown ups outside.
Term 5
Welcome back to school. We hope you enjoyed your Easter break! This term our topic is all about farms. We will be looking at what farms do for us and where lots of our food comes from. There will also be a farm trip for each class this term to see and feed farm animals. This is an excellent opportunity to see some of these animals up close and learn about the differences between animals and their habitats.