Term 3
Horrible Histories
This term our topic is 'Horrible Histories' and we will learning all about life in London in 1666 by looking at the Great Fire of London and how it had a significant impact on the development of modern Britain.
To build upon the children's understanding of London during this time, we will research how the Great Fire started, investigate the factors which contributed to the speed at which it spread and compare the fire service in 1666 to the fire service now. We will also learn about how the fire affected different people and look at the different ways we can find out about historical events.
We will also be focusing on the story of 'Vlad and the Great Fire of London' to enhance our topic vocabulary and develop our reading and writing skills.
Click on the fire picture below to find out lots of interesting facts about the Great Fire of London.
Term 3 Curriculum Newsletter
We started our topic by looking at a variety of sources to see what we could find out about the Great Fire of London. We used maps, newspaper articles and paintings.
Then we created our own timeline of the events of the Great Fire of London. Do you know how the fire started?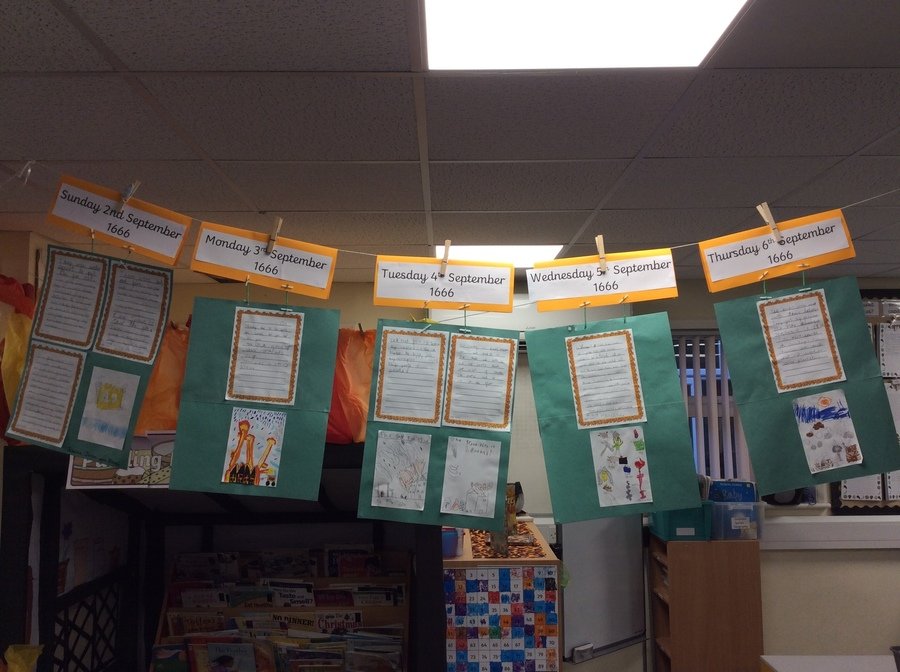 In maths we have been practising our number skills by finding number bonds to 10, 20 and 100. We have also been practising our addition and subtraction skills.
We found out information about significant people in 1666. Samuel Pepys wrote a diary at this time and we know lots about the fire because of his diary. We looked at features of a diary and even had a go at being Samuel Pepys and writing a diary.
We had so much fun visiting Thameside Fire Station. We got to look around the station and see where the fire fighters receive their calls. Then we got to look at all of the equipment on the fire engines and learnt how quickly the firefighters have to get ready when they have a call out. Finally we all had a go at using the hose! We also shared all of our knowledge about the Great Fire of London with the fire fighters. They were very impressed with everything we knew!
We had a wonderful time learning to make bread with our grown-ups. We measured the ingredients, stirred, mixed and kneaded the dough. Then we took it home to eat.