Term 4
Our Topic for Term 4 is 'Julia Donaldson'
We will be looking at a variety of Julia Donaldson's books throughout the term and will focus on the stories of 'The Snail and the Whale' and 'The Magic Paintbrush'. We will use these texts to develop our vocabulary choices, our story writing skills, our ability to make links between different books as well as creating our own illustrations. As part of our Geography curriculum we will be looking at the different settings and environments within these books, looking at their key physical features and identifying their locations on a map. Lastly we will research the life of the famous author and seek to identify where her passion for writing began.
Click on the picture below of Julia Donaldson to find out more about her and her books.
Term 4 Curriculum Newsletter
To begin the new term we read 4 Julia Donaldson books and enjoyed different activities about each book. For the story of Spinderella, we practised our football skills. To enhance our art skills we made paper dolls and stick men. following the story of Stickman and Paper Dolls We also read the Gruffalo and made a berry or apple crumble, carefully using our maths skills to weigh the ingredients and our cooking knowledge to chop, slice and mix the ingredients.
In Maths we have been measuring capacity. We used jugs of water to measure given amounts such as 50ml, 100ml and even a challenging 250ml. We have been learning that 1000ml is the same as 1l. We then compared amounts and used the signs < (less than) > (greater than) and = (equals) to compare the liquids. Perhaps you would like to pop a measuring jug in the bath and see how much liquid you can measure?
We had so much fun dressing up for World Book Day. Have a look at all of our amazing costumes!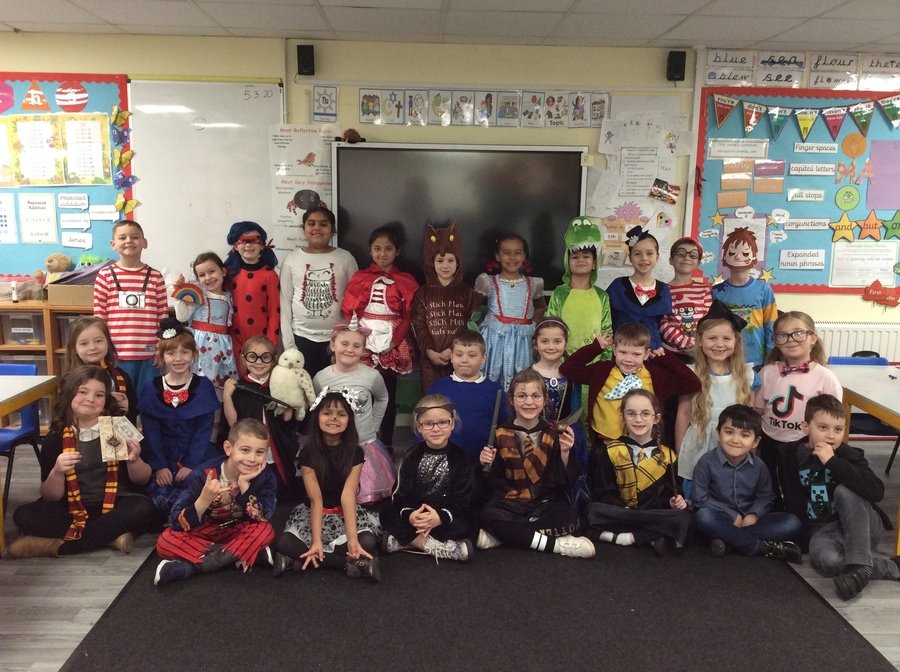 To celebrate Sports Relief we went for a mile run / jog / walk around the field. Here are some fun pictures from the event.
This week is Maths Week! We have been practising our patterning skills using 3d shapes in paint and using mirrors to create symmetrical pictures.